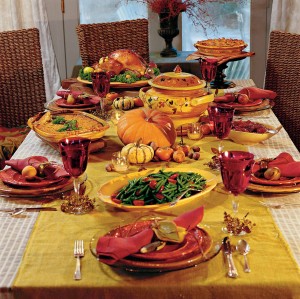 In this ever-busy life we all live, holidays are precious moments freezing the country and its buzz in time.  Most stores are closed.  Schools are out.  And it is a time to gather.  Being that many of us don't see our extended family daily, when hosting, many want to be the hostess with the mostess.  With that being said, the "hostess with the mostess role" doesn't always have to come with a huge pricetag.  Try these tasty tips this Thanksgiving, or for any other holiday, and enjoy!
Shop the sale ads
Compare prices and even consider taking the local store ads with you.  Most stores will price match other stores' advertised prices.  Get all the goods you want, at wonderful prices, without having to drive all over town!
Make it potluck
Have each family member bring a classic Thanksgiving dish.  Make sure to have a balance of desserts, sides and plenty of rolls.
Stick to the tried and true recipes
Instead of taking a gamble on a new recipe, stick to the classics.  It might be a stressful disaster, and expensive, to toss out a dish on Thanksgiving day when time is of the essence.
Be untraditional
Instead of hosting a large turkey dinner with all the fixin's, why not try a spaghetti dinner or just having family over for dessert and wine?  Much less stress, and it gets you out of the kitchen and enjoying family time.
More is less
When buying a turkey, getting the whole turkey is actually cheaper than the turkey breast in a ratio of pounds to dollars.  If you are not going to eat the leftovers, however, opt for a smaller turkey or the turkey breast.
Less is, in fact, more
Making less food make be the key to spend less.  If those leftovers get wasted every year, that's just money and hard work down the drain.  Only make enough for the people you're feeding, or make sure make good use of the leftovers.  (See:  Uses for Leftover Mashed Potatoes, Turkey, and More)
Beg, Borrow and Steal
So, you don't have to own all of the silver, tablecloths or dishes, just nab grandma's serving set, borrow mom's dishes and use the beautifully cooked turkey as a centerpiece!
Be creative with space
If your dining space is limited, try this:  Put the adults around the table and set up a card table in the kitchen for the kids.  Even get some inexpensive stools and put some people around the kitchen counter diner style.  This works well if you have an open kitchen and dining room.  If you live where the weather permits, dine outside!