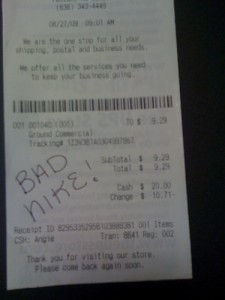 I have been running and working out fairly regularly since I was fifteen.  My shoe of choice for training?  Nike.  My shoe of choice for running?  Nike.  My shoe of choice for just hanging out?  Nike.  Today, something changed.  It wasn't the shoe's fault.  It was Nike's.
In May 2008 I purchased two pairs of Nike Reax running shoes:  a pink pair and a blue pair, of course.  I coordinated the shoes with my workout clothes of the day.  I went to the gym 5 times per week, weight training for 2 of those and running on the treadmill for 3 of those days.  My pink Nikes held up great.  My blue ones did not.  The same exact shoe, and the faux leather on the left blue shoe where the lace holes are started fraying, then it became a tear.
I contacted Nike in August 2009 after my friend said there is some sort of warranty for defective shoes.  I called, got the claim number (CL090811003591) and sent the shoes in for replacement via UPS on 8/27/09.  Paid $9.29 for trackable shipping (more if you count the box, gas to get to the store, time and the fact I had a cranky preschooler with me).  It arrived at Nike in Oregon on 9/2/09.  This canned letter was printed and mailed to me on 9/3/09.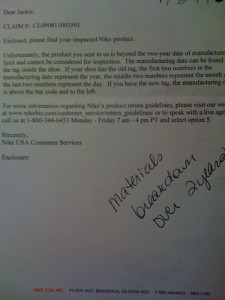 So, this morning, after receiving the letter (and steaming from the ears) I called Nike.  I talked with one person, who said the dates on the shoe's tag indicate the manufacture date on the left and the tag manufacture date on the right.  My shoe has 5/13/07 on the left and 9/24/07 on the right.  I argued that the shoes didn't reach market until at least October 2007.  The representative said, "Could be."  So, why again does the warranty start even when the shoes are sitting on Nike's warehouse shelves?  Why am I being punished as the consumer for purchasing your overpriced product in the first place?
I asked for a supervisor, who basically told me the rules again and then told me some antidotal story of how a lady called to get shoes replaced that she purchased 5 years ago and argued that she hadn't worn them in 3 years, but now wanted to wear them again.  I told "Laura" this wasn't relevant to my situation as the shoes were purchased in May 2008, NOT May 2004.  She then repeated the rules to me and told me how clear they are on the website and sorry I did not understand them from the website.  On top of it, she said their materials start to break down within 2 years.  So, maybe I should start running in my Docs because I've had them for twelve years?
I then told her I would be blogging this, tweeting this, facebooking this and that my blog is indexed by Google and Technorati.  She paused for a long while.  She then said they didn't want to lose me as a customer.  I told her that was already done based on the content of the phone call.  She hoped I didn't let one bad incident ruin my relationship with Nike.  You know, Laura, I hoped Nike wouldn't let this one incident ruin their relationship with me.
I purchased these shoes in May 2008 for $100 and Nike will not give me a replacement pair after they broke after wearing them for 4 months.  Please share this blog.  We the consumer shouldn't be abused by big businesses.  I'll post a picture of the broken shoes when I get home tonight.
Share, tweet, email away!