I used to subscribe to Women's Health and really enjoyed the magazine. There were sections for health, fitness updates, and new gadgets for those of us who are workout nuts.
Over the years, the magazine went through some changes, but the most significant shift happened about 3 years ago. All of a sudden, the pages were filled with more celeb gossip, dating advice, and fashion and makeup tips. I canceled my subscription. If I wanted that stuff, I'd subscribe to Cosmo (Cosmopolitan).*
But I don't.
I want information about staying healthy.
At least the Women's Health's website stayed decent with articles about new workouts and videos showing exercises with step-by-step demonstrations.
This brings me to last night. I was wanting to find some new exercise inspiration. I like to mix it up a bit so my body doesn't get complacent and so I don't get bored. Makes sense, right? So I go to Women's Health's website.
Oh. My. God.
My intended short visit to the site to find some new exercises to take to the gym in the morning turned into a diatribe.
What had they done? Where was the fitness? Was it not important enough to make the top nav?

Oh, it gets better. The editors decided that women's health includes such topics as:



Then you get a pop up: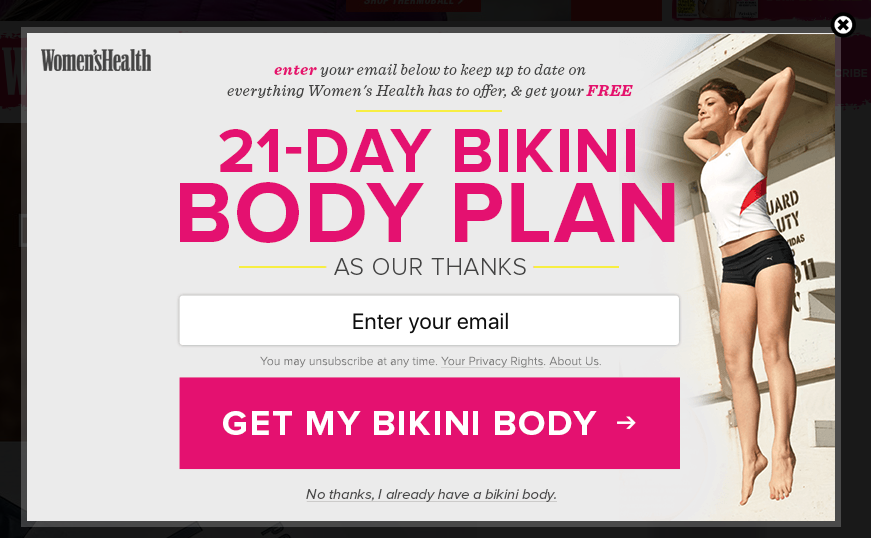 Is that all it's about? A bikini body. Orly?
Ok, so what about the boys? 

Seriously? Seriously.
Now, what did Rodale decide Men's Health's site should have?
I thought you'd never ask.





   On the main page, was there celeb info? New hair products? Ads asking if they wanted a bikini body?
Nope.
None of the above.
How unfortunate that a perfectly good health related periodical for women was bastardized by mainstream media and pop culture. I hope it circles back to cover fitness, women's issues, and girl power that it once promoted. Now it just serves to join all the other fluff mags that perpetuate the female stereotype.
*It should be noted that Michele Promaulayko took over as editor-in-chief in 2008. Previously, she was executive editor for Cosmopolitan.