Nobody likes pictures of themselves. While I'm sure there is some science behind that, a good professional headshot is crucial. Recently I was asked for a headshot. My current headshot was no longer current. My hair longer, and honestly, I have a few more wrinkles! 😉 So I hit up my ever-talented husband, Chris, for some help.
For my background, I chose the Busch Student Center. I love the activity of the BSC! There students and staff are constantly milling about and talking together. I love witnessing the people of SLU coming together to fulfill the mission of the institution.
Even if I'm not a fan of pics of myself, I'm pleased with the resulting picture: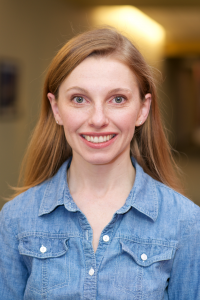 After I uploaded my headshot, I looked to see who else had uploaded theirs for the conference. I saw some great pictures, and one snapshot. Yikes! This person was the keynote speaker and had uploaded a picture of himself at a restaurant with low-lighting and holding a beer to boot! While I do partake in adult beverages myself from time-to-time, they have no place in headshots or profile pictures.
For professional headshot, go the extra mile and make it even more polished by following these tips:
Keep it evergreen
Many of us have lovely campuses, but avoid taking shots outside. Your picture will always look distinctly spring/summer/fall/winter.
Make it interesting
Don't just stand in front of a blank wall, but stand somewhere meaningful to you. Are you always in the student center? Or maybe you love the library? Make your scene somewhere that makes you feel happy, but also be sure your photographer has you in focus and not too much of the surrounding area.  A good photographer will be able to do this.
Light on the makeup
People want to see the you they would see everyday at work. Making hair and makeup too intense will make you resemble those Glamour Shots from the 90s.
Go classic
Keep jewelry classic. What do I mean? Don't go with a statement necklace or fashion earrings, but maybe some simple studs or pearls. This way you won't look at the photo a year from now and say, "What was I thinking?!"
Wear what you love
Choose clothing that you feel good in and look good in. Wear clothes that fit you well. It will show in the picture and your energy in the photo.
Add movement
Speaking of energy, don't freeze in an unnatural pose. Smile naturally by putting your tongue behind your teeth. Take a breath in as the photographer goes to snap the pic. The photographer can help with your body to make you look more natural.
Say no to snapshots
Bringing this back around, do not try to use a snapshot or crop someone out of the picture to make it usable. The failure here is it doesn't look composed or professional.
On downloading a profile picture
Do not download a picture from another profile. Always keep your headshot in a folder on your computer where you can find it. Downloading a headshot or picture from another website runs the risk of looking grainy. This is because the picture might have been compressed. When displaying it larger than say, the thumbnail it came from, would cause the computer to fill in the missing information (pixels) on the picture and appear grainy.
Do you have more tips? Let me know! Are you proud of your professional headshot? Do share! Has this post helped you come to the conclusion you might need a new headshot? Great. I'm sure you'll look amazing. Help others look great too and share this post with them!