When my defense date was scheduled, Chris suggested having a graduation celebration at a local restaurant. I am not one to celebrate my accomplishments, but I thought, "I do miss my friends." Being in a Ph.D. program is isolating. Finally now after five years, I get to rejoin society. 🙂 <smile>
Chris found this little family-owned restaurant near South City. It was so nice. The service was great. The food was great. They were so accommodating! If you're in St. Louis, go eat there. It looks so unassuming from the outside, but it's a wonderful place to eat or have a large party.
Thank you to everyone who was able to make it out that evening. Sorry some of you could not make it. We need to meet for a coffee date. It was wonderful to get to see all the new little someones in our group and enjoy a meal without worrying about how much time I was spending away from my research and writing.
I always am the worst at receiving gifts, because I never expect anything and feel guilt when receiving gifts. Maybe this stems from my shyness. I'm outgoing unless the attention is on me, the person. In spite of my shy awkwardness around gift receiving, some of my friends and family were so gracious to give me cards, a coffee mug, flowers, money gifts, Star Wars nerdery, and wine.
Because of my guilt I feel when receiving gifts (I know, weird, right?), I always want to make sure I'm very responsible in buying items with gift cards and money. I thought very hard over the past week-and-a-half about what would be good to buy with the money gifts.
First I thought books, but then I figured the local library has a great selection of books and eBooks, and my bookshelf space is already "inappropriately overstuffed." (I'll own that one.) So, no on books.
Previously, I purchased my graduation regalia with a money gift from my parents and the bank of moi. (This is lovingly known around the house as my Pokemon outfit. Mom is evolving.)
This gift I would buy needed to be something practical and really applicable for where this degree took me.
For the past five years, I have been using a hand-me-down desk chair from my parents.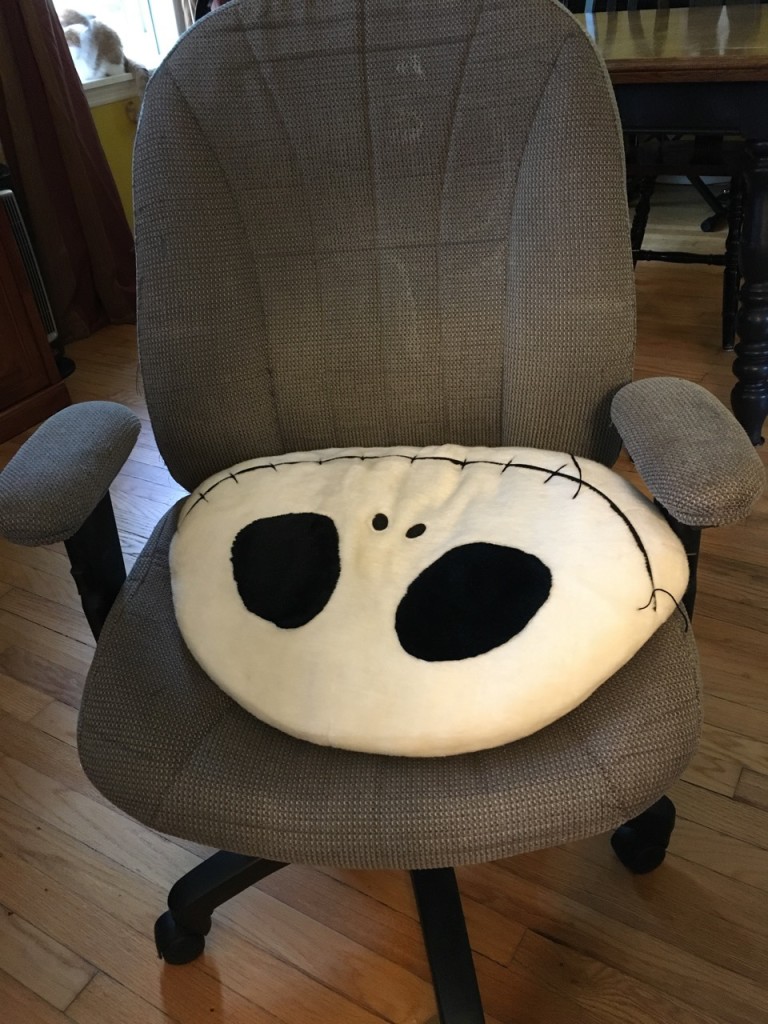 This desk chair was purchased when my family bought a new home computer when I was 13 – it was 1995. Because the foam in the seat is now worn out and the bolts are now just under the fabric, I sit on a Jack Skellington pillow. Sorry, Jack.
Considering now I will be doing a lot of academic coaching, independent research, and writing, thus working from home, Chris suggested it was time for a new desk chair. I searched, and read, and debated. The Steelcase Gesture did have the best reviews everywhere I searched. But did I really want to drop that much on a chair? The last desk chair I purchased was in 2000 for $99. Bless that thing for lasting 11 years. And, arguably, this current chair has lived a healthy 21 years and it was more than $99 when my parents bought it. If this new chair lasts that long, it would only be 13 cents a day. Please understand, I am not used to spending money on myself.
After hearing my debates for the past week, and giving an unknown number of exasperated responses, Chris told me to "get over it." Heeding my famous advice, last night I closed my eyes, and pushed the "Submit Order Now" button. My new desk chair will arrive Thursday. Appropriately, I ordered the chair in same blue as the velvet on my graduation regalia, signifying Education. It'll help me take on the complexities of the state of education.
I am so fortunate to have such caring family and friends to help over the past few years, patiently ignore my absence, and help celebrate my accomplishments. Thank you.
If you want to come attend my hooding ceremony and watch me evolve into a Ph.D. graduate while in my Pokemon outfit, it'll be the 18th of May, 2017.