Clotheslines that used to litter the countryside are now starting to filter into suburban and urban life.  Why?  Their now chic.  Some neighbors get them because other neighbors have them.  I'm actually excited to see clotheslines having a bandwagon effect.  Why?  They have great benefits, including cost savings, emissions savings, and the clothes come off the line smelling like real sunshine.
Benefits of Clotheslines
Using less energy
Clothes last longer since not dried at high heats
House isn't heated by the dryer in the hot summer months
Clothes lines often hold an entire family's laundry at one time
Nebraska Public Power District has a great site about the cost of different appliances in your home.  It diagrams the costs of laundry in the following chart:
Laundry
Cost/Period
Clothes Dryer
47¢ / load
Clothes Washer (cold/cold)
2.8¢ / load
Clothes Washer (warm/cold)
12.8¢ / load
Clothes Washer (hot/warm)
34.2¢ / load
Iron
9.2¢ / hour
Here is a fantastic blog post with directions about building a T-style clothesline.  As you can see, for around $20 total, you can have a clothesline.  It pays for itself in one month, estimating the average family runs the dryer 1.3 times per day.  And I love how this blogger put stones at the bottom of the posts.
If you are looking for a space saving type, try an umbrella clothesline.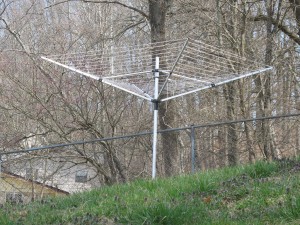 This clothesline can be set up just like an umbrella, and taken down as easily.  I found one on Ace Hardware's site on sale for $45.  Be sure to anchor the post of the clothesline.  You may either permanently anchor the post in the ground or you may choose to make the clothesline removable:
Supplies:  Pea gravel, Cement, Pipe 1/2″ wider than clothesline post and 6″ taller than anticipated hole depth (you don't want the debris from rain runoff to get into the pipe and eventually clog it).  Pipe cap optional so rainwater doesn't get in pipe when clothesline isn't in place.
Dig hole at least 24″ deep and 6″ around.  Place two inches of gravel at the bottom of the hole, insert pipe, then pour cement around pipe to fill the hole.  Allow to cure for 72 hours before use.  Now you can remove your clothesline as you wish!
As a final note, please take the time to sign the petition to revoke anti-clothesline laws.  Share the link!
Now, go outside and build a clothesline this summer!