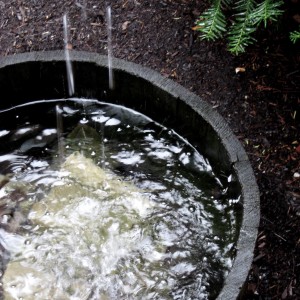 Apparently I missed Metropolitan Sewer District's rain barrel sale!  They published one article in the St. Louis Post Dispatch about it.  On the phone today, I asked a MSD representative if the rain barrel program would run again, and she said she isn't sure as nothing had come down from home office yet.  She said, however, if they do they will advertise it better this time around on bills and in the various newspapers.
Man!  I am not even a MSD customer and I have to pay $5.32 per month for my property's impervious land's water runoff and I don't even get a chance to buy a rain barrel to stop such 'runoff'.  MSD and I have argued about such 'runoff' before because there isn't a rain sewer within 2 miles of my home.  The representative on that day told me it also covers the streets I drive on, as those have runoff.  What about apartment dwellers that use streets then?!  Their arguements are weak.  They just want to tax someone.
If MSD doesn't get around to offering more rain barrels, consider making your own.  You could even do something fun with your downspout if you use a rain barrel.