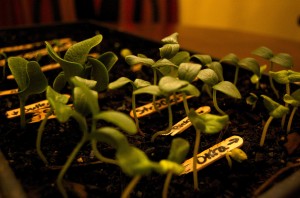 This post is from a draft at least 6 weeks old, but good information.  Sorry it won't help much for this year, but there is always next.
Okay, for those of you who are in the dark, let me explain.  Poor Chris has heard me babble on about something with "Pete" and "dirt in a flat" and germination percentages for the past few weeks.  I talked about doing an experiment, and I did it!  I planted a broad variety of seeds:
Cucumbers
Chicago Pickling
Straight Eight
Melons
Cantelope
Moon & Stars
Musk
Sugar Baby
Yellow Doll
Okra
Pepper
Banana
Bell
Squash
Acorn
Sunshine
Zucchini
In the peat pellets, 50% or less germinated, then failed less than a week later.  The tomatoes were the only ones to 100% stick around.  In the soilless mix, 83% or more of my plants germinated and lived.
For more information about starting seeds, check out this video from Organic Gardening.