Anyone who knows me knows if the kitchen is full of baked goods, I've had a bad day. Last week, I had a big, ugly bad day.  Now I baked, got over my bad day, and lived to tell about it.
Recently, like everyone else, I have become so addicted to Pinterest.  Being I love food, I'm always checking out the delish pins of others. And, again, if you know me, I just can't leave a recipe well enough alone.  I always am tweaking, tweaking, tweaking…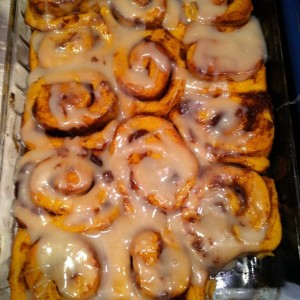 For my bad day menu, I chose yeast breads.  Those are always good to get the anger out with the kneading, kneading, kneading… my mom read once that eighty-seven times is the appropriate amount to knead dough.  It works just about right.
First, I decided to make these Pumpkin Cinnamon Rolls with Cream Cheese Frosting.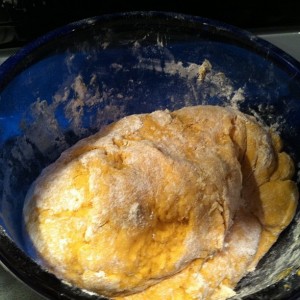 I read the recipe and thought, "Holy Butter, Batman!"  Now, while I am not in fear of eating and using butter, and do only use the real deal, I do like to conserve where I can.  Here is my revised method and recipe:
Dough
1/4 cup warm water (between 112-115 degrees)
2 1/2 teaspoons active dry yeast
1/2 cup milk
2 large eggs, beaten
1 cup pumpkin puree (either fresh or canned)
1/3 cup melted butter
1/4 cup white sugar
1 teaspoon salt
6 cups all-purpose flour
Filling
1 cup brown sugar
2 tablespoons cinnamon
2/3 cup pumpkin puree
Cream Cheese Frosting
4 ounces cream cheese
1 teaspoon vanilla extract
1 tablespoon milk
3 cups powdered sugar
Method
Stir yeast, 1 T sugar and 1 T flour into warm water. Allow to proof for 15 minutes. Stir in the milk, eggs, pumpkin puree, butter, salt and remaining sugar.  Stir in flour 1 cup at a time until you cannot stir any longer.  At this point, begin to knead.  I am short so I always put my bowl on the floor and knead in a huge mixing bowl.  Add the flour as you go.  The dough should not stick to your hands when it is finished being kneaded – you shouldn't need to flour or grease your hands.  If it sticks, add a bit more flour a little at a time.  The weather affects baking and cooking – the more moisture in the air, the more flour needed, and maybe longer baking times – the opposite for dry weather.
Place the dough into a greased bowl. Turn the dough in the bowl to coat the entire ball of dough with oil. Cover with thin towel and rise 1 hour.
Combine the brown sugar, cinnamon and pumpkin puree.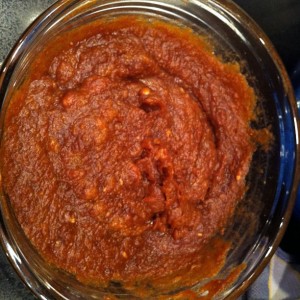 Roll dough into a 16×12″ rectangle. If you kneaded it well, this will be a very elastic dough and will fight you. But the rectangle can be done! Get your favorite rolling pin out and work it.
Now that your arms are tired, spread filling mixture onto the rectangle.  You are now going to roll the dough into a log.  This will be messy, but it is delicious. Roll it along the longest side. Be sure to stretch the dough slightly as you roll and it won't be as messy.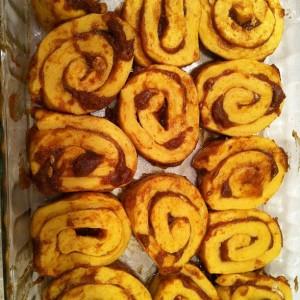 Go grease your pans.  Get 2 13×9″ pans ready. Using a very sharp knife, slice the log into the rolls. I did 1″ slices. Cover with that thin towel again and let rise another hour.
Bake in a 375° oven.  Bake the rolls till they begin to brown around the edges.  Mine took about 22 minutes, so set the timer for 18 minutes and do increment times after that (remember what I said about weather and baking times!).
While the rolls bake, make the cream cheese frosting!  Trust me, you'll want to have everything ready the second these rolls come out of the oven – YUM!
I softened the cream cheese in the microwave for about 45 seconds, added the vanilla and milk, and finally whisked in the powdered sugar.  When the rolls are ready, cool for about 5 minutes (I know, you just can't wait) and drizzle with the frosting with your whisk turned sideways.  It's easier to avoid the frosting pools this way.
Enjoy!