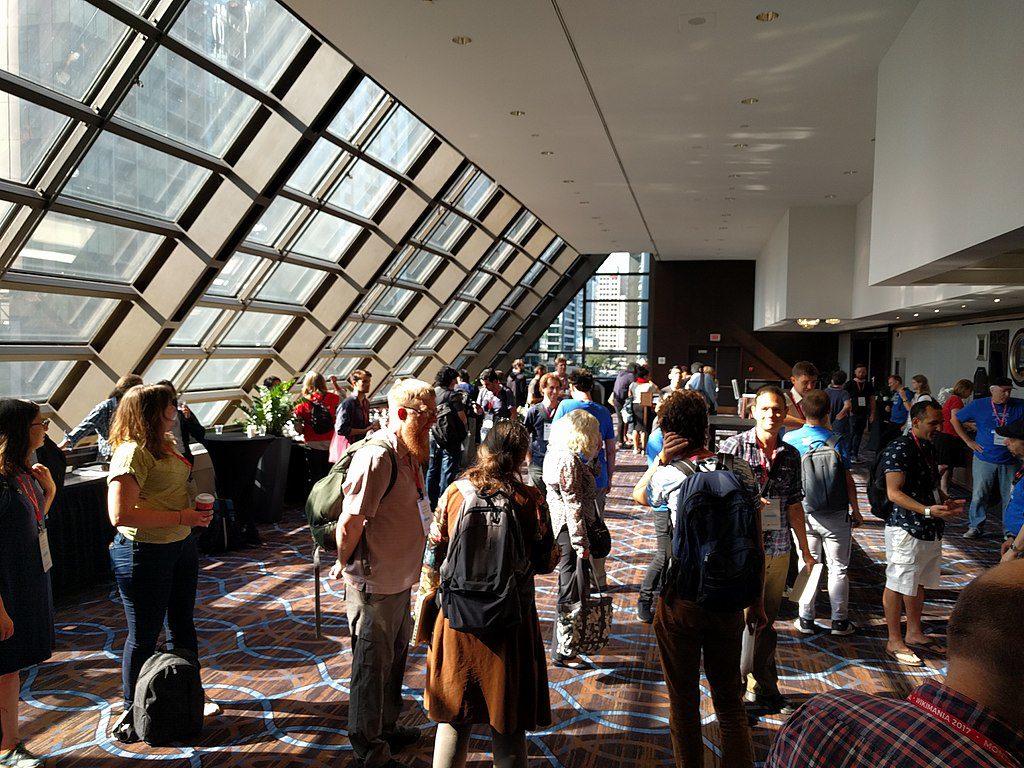 A few weeks ago, I attended my first Wikimania conference. It was held in Montréal, Québec. I had been to Montréal once before for a conference, but I was in a part of the city just a few blocks to the south this time. Thank goodness this visit was much warmer. August is much nicer in Montréal than March!
I was not planning on attending the conference if I didn't get a scholarship, as I don't have travel reimbursement right now and I'm completely self-funded, but I was to be presenting in 3 different sessions. On top of this, I really wanted to meet the people I had been connecting with over the past year in person. I shed a tear for my credit card and booked the trip.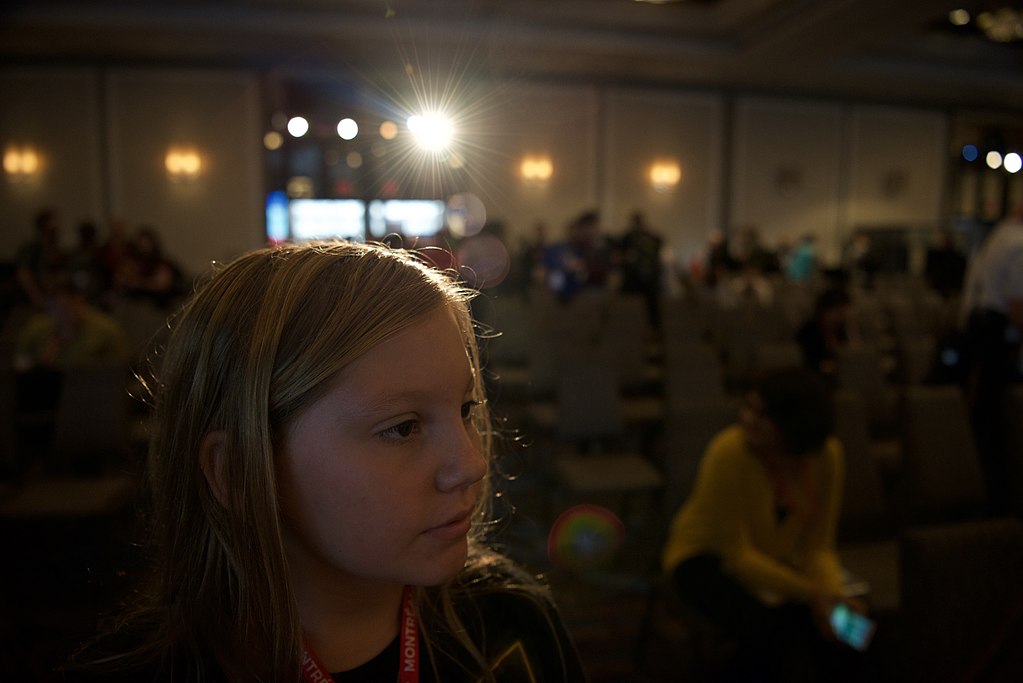 Chris and Kari attended the conference with me. I am not sure if Kari was the youngest participant, but she did not see anyone else her age. I did meet a few 16 and 17 year-olds from Germany, but no other 11 year-olds. She did make the acquaintance of the oldest Wikimedian in attendance, who was charming.
Our flights to Montréal were fine, but certainly not my favorite. Both flights we took were really turbulent and on really small planes where we were seated in the back. Luckily they were short flights and thank goodness the hustle through Customs did not take as long this time. Last visit to Montréal we only made our flight from Toronto with 10 minutes to spare! Thankfully this time we had enough time to not be in a panic.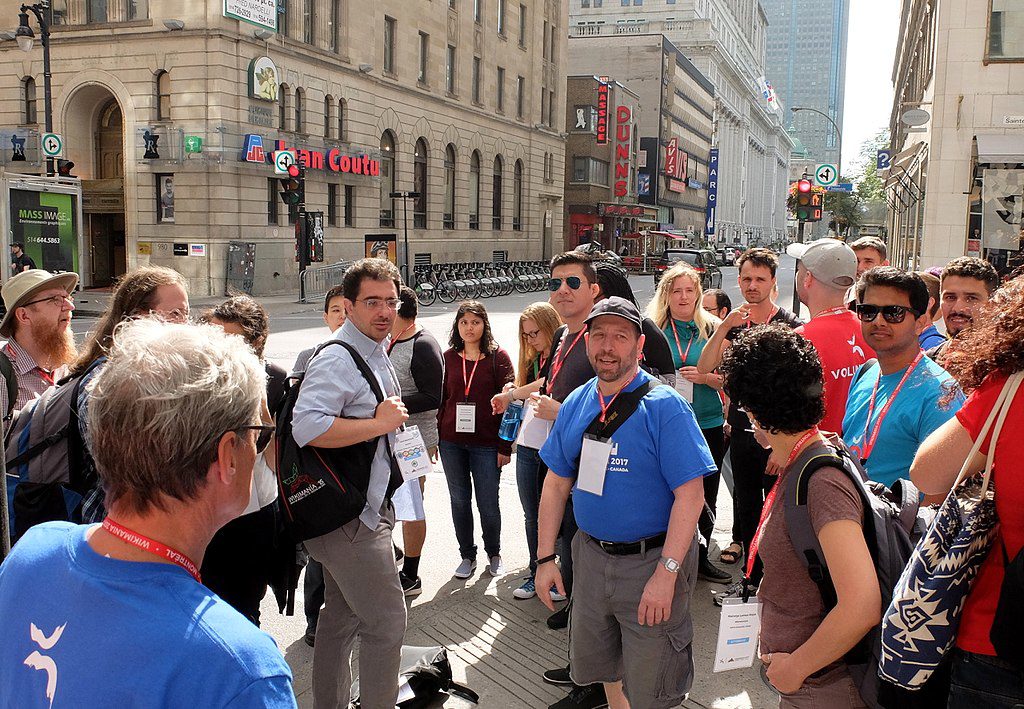 Once we arrived in Montréal, we met up with one of Chris' work friends at the baggage claim. We all took a taxi to the hotel. I don't think I will ever be comfortable riding in a taxi or any other car service. Before this trip, I didn't know you could drift in a Prius – just kidding. It really wasn't that bad.
The hotel was really nice. The elevators were fast, if maybe a little too fast. The outlets all worked – if you travel a lot you know what a joy this is! And, although I was allergic to my bed, it was super comfy – nothing a little allergy medicine can't fix! After a little rest and freshening up, we went to help with the set up for the Hackathon. I am always so blown away by what I see created at the Hackathons. I can't think of any better coding than coding for a greater good.
That evening we met up with even more of Chris' work friends and went out for dinner. After the first place turned out to be a dud (really, we judged a restaurant by it's front door – more about this later), we went to a place called Dunn's. Now eating out in other countries is a treat for me. I have food allergies. Countries outside of the United States usually have ingredients fully listed on the menus, or are really accommodating with modifying the item on the menu. Also, some food additives are just not allowed in other countries (get with the program, America). I rarely get sick eating out when I'm outside the US. Let's just say I totally dug their in house veggie burger. Not quite like the one I had in Boston, where I hustled the chef for the recipe, but certainly in the top 5 of veggie burgers.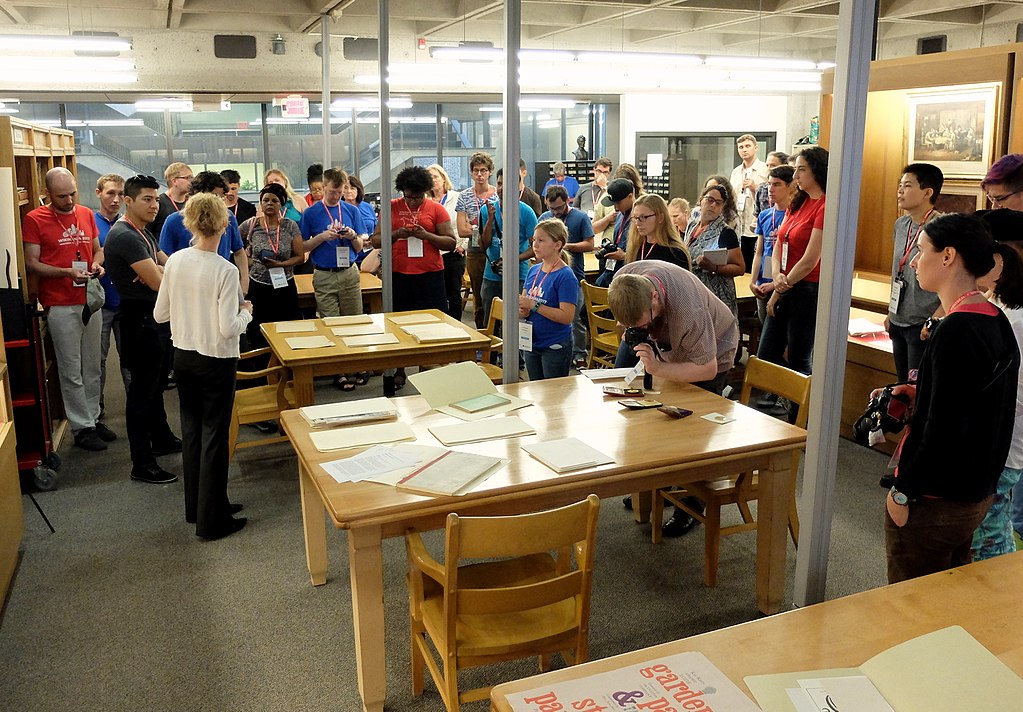 After a night's rest and a quick breakfast, Kari and I headed to our selected pre-conference, WikiConference North America. The first day was full of tours, edit-a-thons, scan-a-thons, and wrapped up with a social night at a pub in Old Montréal. Kari was dragging her feet on the way to McGill University. She did not want to tour the rare collections and archives. I gave a little smirk and ignored her complaints. Little did she know what this meant: a library with exclusive content. Once we were inside, I didn't see her again until it was time to leave. She enjoyed herself so much taking pictures to upload to Commons (still to come). After the whole day at McGill, she's convinced that's where she's going to college. As for me, I met and talked with so many different archivists, librarians, scholars, and change-makers during our hour in the rare collection archive, I didn't get a chance to look at the material in the rare collection!
Topics discussed included the strong work others are doing surrounding equality, information access, and gaps of all kinds. I met some librarians and archivists from around the world. Librarians are still the coolest people I know, and wicked smart. Always have at least one on your trivia team for trivia nights. They are the pioneers of getting knowledge into the hands of the people.
Wednesday evening we all gathered in Old Montréal at a pub for drinks, dinner, and conversation. I got to chat with several people who are passionate about the gender gap, bias, harassment, and categorization on Commons just like I am. It was really relaxing to get to talk amongst people with common concerns and thoughts. It can be great to have challenging discussions, but it is also so restorative to have those validating conversations. They show you you're not alone, and what we're all doing is important work.
One thing I can say I noticed right away about Wikimania and WikiConference North America, was the competitive aspect was missing. Most other conferences are filled with people recounting their resumes and competing for attention. But this experience with other people there for this common cause, it was very refreshing and quite relaxing. My lack of both rank and tenure didn't matter here. My opinions about information access and the opportunity gap were received with snaps and nods of agreement. My choice to publish openly wasn't followed by harsh comments, but excited anticipation. Wikipedians are the coolest people I know.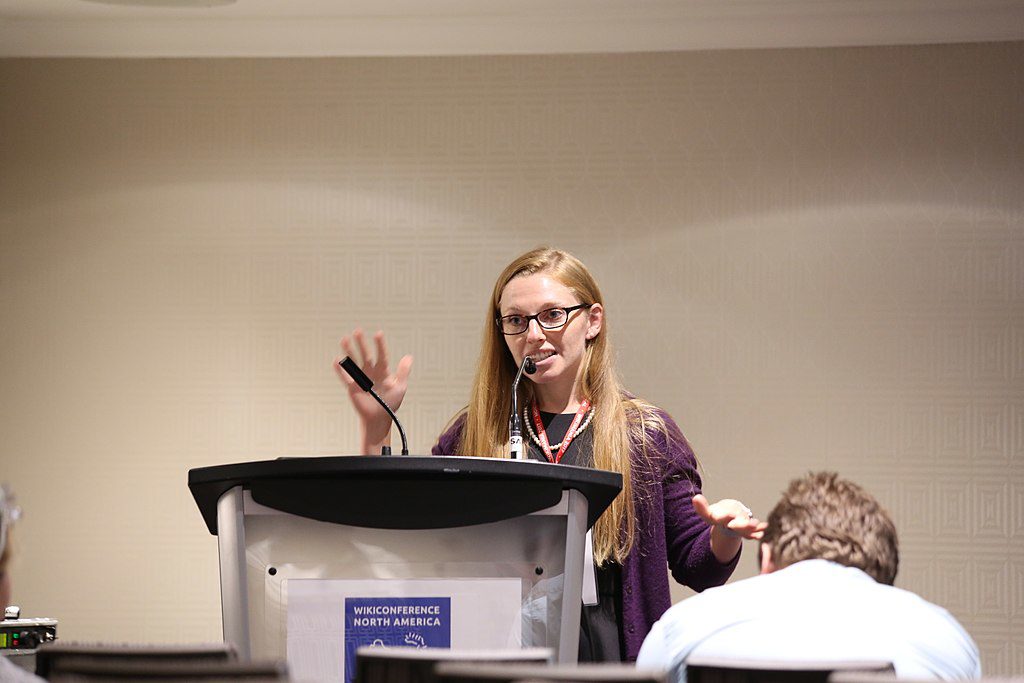 On Thursday I presented my session about implicit bias at WikiConference North America. There were really bright people in the room. Honestly, I am better for their comments and discussion. One person brought up the fact that my topic only covered English Wikipedia. That's the tricky bit. My presentation did only cover English Wikipedia, but I would love to be able to examine bias in other languages. This is something I need help with from within the language community. Bias is additionally complicated since much of it has to do with culture. Since I have not experienced the culture, there would be a greater learning curve, and also a greater rate of error. I would, however, love to inform these projects and efforts in any way I can.
Because of my particular interest in harassment on Wikipedia, I was excited to hear about Pax's work with harassment. Pax is championing and supporting efforts to make harassment easier to report, and getting the community to call harassment what it is. A lot of times harassment, both on- and off-wiki, is not called exactly what it is. Pax is putting their experience to work, and encounters triggering and challenging content each day, to make harassment something unacceptable in the wiki-community.
I met people working on gaps in content and contributors. I cannot express how much I learned. There are students in New York editing content about crime to counteract editing attempts by local police departments to improve the department image. Women in college are editing content and reaffirming their place in creating and curating knowledge. Students at the Ohio State University spoke about their user group on campus. I also spoke to a student from Germany who is part of the Wikipedia youth users group. She told me about empowering youth to code, take pictures for Commons, and otherwise contribute. I really hope we can get something like this started in communities where there is already a large Wikipedia user group.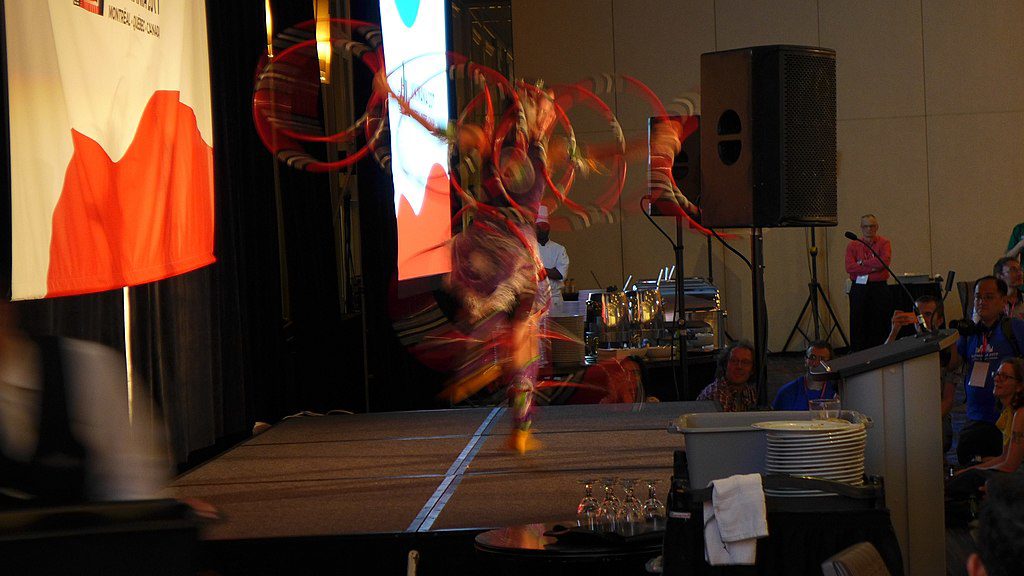 Thursday night was the Wikimania opening session. It was nice to meet new people and get to embrace those I have come to know and love through Wikipedia. There was good food, and an amazing hoop dance to welcome us to Montréal.
On Friday, I presented my session on implicit bias for the Wikimania crowd. I was pretty surprised it was standing room only. I wish I would have recorded it and shared it. The group in the room was amazing. Answering questions and challenging each other to go further about bias was just great. There was one question about how you tell someone they're wrong when they are telling you you're biased, when you're actually not. It was really cool seeing the crowd start to shift and buzz before this person finished asking their question. Thank you to the person in the crowd who answered the question, and with more grace than it deserved.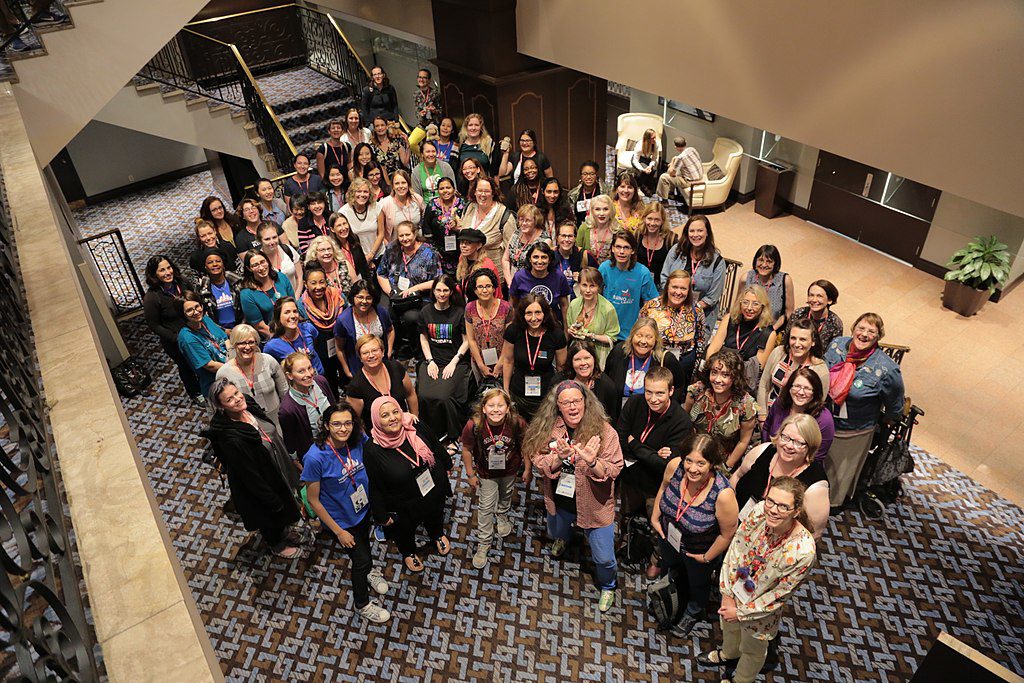 The rest of Friday and Saturday were filled with more sessions, lunches and dinners, social gatherings, a delicious shawarma (from the restaurant we judged), and the closing party. I had an incredible time and will always look back on this fondly. All of the guest speakers were amazing. I'm serious. They were absolutely incredible. Everyone I met was doing brilliant work. I made connections with people who are working toward changing bias – bias in content, policy, thought. I am excited to continue our work together.